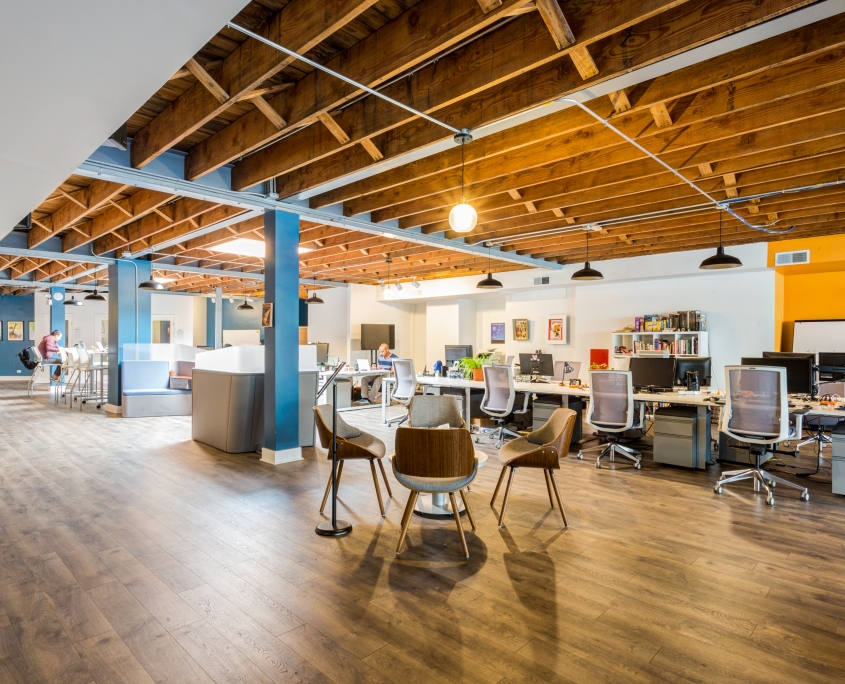 Second Shift is a neighborhood coworking space with the slogan 'friendly, not fancy'. We are looking for an engaging and responsible community manager to grow the inviting hub for Logan Square's remote workers, freelancers, and small businesses, but also work with the Denver team to grow the role into leaders of the coworking movement.
The daily operational tasks include keeping the space clean, engaging with our amazing community, and creating connections. You are responsible for bringing the energy and spark of joy to the space. Although you will be running Second Shift, you will be part of a small and supportive team. Second Shift is part of a small 3-location coworking chain based in Denver, which has been around since 2011. All locations are neighborhood focused with a similar vibe.
Our ambition is never to go full tilt in profit, but a balance of community impact, enjoyment of the job, and getting paid fairly. 
The position is operating the space (you get that), but we want Second Shift to be more than a coworking space. We want to help the indie coworking movement to grow throughout Chicago and the Midwest. We help run Chicago Coworks, which is one piece of the puzzle, but we have more opportunities if we want to make it. This is where we work as a team to push bigger projects forward. Our 'Grow' projects are estimated to be five hours a week out of the 30 hours.
Our existing growth projects are Chicago Coworks, Chicago Coworking Passport, DenSwap, and coworking consulting projects. Our grow project success is how the position grows into more hours and higher pay. We like our community managers to become leaders in the coworking movement.
Job Tasks
Community Cultivation (The People)
Being a great communicator and wonderful people person – online, in person and everything in between.
Act as first point of contact for inquiries and assistance
Greeting everyone; includes making rounds to chat up all members.
Sales and tours to introduce the space and community to prospective members
Follow up and correspond with contact and inquiries
Manage and integrate incoming members
Keep and maintain contact information
Engage the community with events, meetups and projects
Notify and help organize member engagement, including making introductions and connections
Listening to members and connecting them to one another.
Responding to inquiries from new and current members in person, by phone, email, or Slack.
Having a positive, entrepreneurial attitude.
Solving problems alongside members.
Being inclusive of members in decision making.
Operations and Organizational Items (The Space)
Opening the space each morning & preparing it for members by tidying furniture, setting up rooms and making coffee.
Handling copy and print requirements.
Organizing and planning of events.
Identifying and implementing new ways for Second Shift to become more efficient.
Marketing the Second Shift Brand
Work with the team to develop a social media strategy, (mostly Instagram)
Brainstorm new events to promote our members and invite outsiders in. We're big fans of potlucks in non-COVID times, board game nights, etc.
Develop partnerships with local apartment buildings, gyms, and business groups.
Pay Details
$17 to $20/hour, 30 hours a week. You can work less hours if you have other projects going on, but you need to take care of the space.
Paid vacation time earned over the course of a year.
Paid sick time off earned over the course of the year.
Bonuses available based on the financial performance of Second Shift. 
We want hours to be as flexible as possible to meet your lifestyle while meeting the obligations needed as a community manager. If there is an event after hours for some reason, take a half-day at some point in the week.
How to Apply:
Send to [email protected]
Step 1: Attach resume
Step 2: Create and attach a short video in email that describes why you like coworking, what makes you a good candidate for the community manager role, and tell us a little about yourself. Don't worry about production value, just grab the camera and hit record. 🙂